National Institute of Health and National Eye Institute
Fact Sheet about Cornea and corneal disease. Describes the cornea with illustration, discusses its function, and reviews a number of corneal problems. Click on Fuchs. One of the most understandable descriptions you will find (their wording has been copied by many other websites!). The print is large enough for easy reading. Also see their section called Talking to Your Doctor for questions to ask about your disease, treatment, and tests.
St Luke's Laser Institute description of Fuchs'
Visit this for their illustrations of Eye Anatomy.
Ocular Anatomy
This is a MUST SEE to understand the layers of the cornea and how thin is the endothelial layer which causes all the problems for Fuchs' patients .
Cornea Associates of Texas
Although they are trying to sell something, they have one of the clearest and well-illustrated descriptions of Fuchs', its hereditary nature, and its progress and prognosis.
Eye Care Archive
Q&A on Fuchs'. Brief but good.
Berg Eye Center
Brief but excellent description of Fuchs'.
How We See The World
Drawings and photographs by members of Fuchs' Friends, a support group for sufferers of Fuchs' Corneal Dystrophy. Depicts how the world looks through their eyes.
Lion's Eye Bank of Wisconsin
This site has good information about how an eye bank operates and also contains a very good slide show including pictures of the transplant procedure and the endothelial layer of the cornea. To go directly to the slide show, click HERE
http://www.fuchs-dystrophy.com/
This is the Fuchs' Dystrophy Home Page, where you may request to join the international support group known as "Fuchs' Friends," where massive collections of information, experiences, and support are shared daily by over 1140 members who are living with Fuchs' Dystrophy.
CLICK ON "REQUEST TO JOIN"!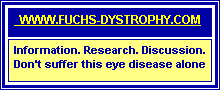 Back to

Page updated July 15, 2005, by Dorothy
Original Graphics copyright Dorothy Acton
All rights reserved
Commonlaw Copyright 2002 - D.Acton All rights reserved. No part of this website may, for commercial, profit-making or other non-personal purposes, be reproduced in any form, or stored in a database or retrieval system, or transmitted or distributed in any form by any means, electronic, mechanical photocopying, recording or otherwise without prior written or electronic permission of the author. Submit all inquiries to said person via email to the site's webmaster.